Power Surfacing for Onshape
Version: Sept 22, 2016
- Do you need to create organic "Class A" surfaces for Onshape?
- Do you need to utilize both freeform shapes and analytic shapes?
- Do you wish making organic shapes was quick and easy?
- Do you need to utilize scan data to recreate organic shapes?
Power Surfacing organic Sub-D modeling complements Onshape mechanical modeling, providing a full range of 3-D modeling functionality. Power Surfacing for Onshape is a revolutionary product that extends the capabilities of Onshape and allows you to create complex organic shapes. Power Surfacing makes it easy and fun to design complex curved shapes; manipulating Power Surfacing parts is as easy as modeling with clay.
Power Surfacing supports input of Onshape models and the design of organic shapes which connect smoothly to existing Onshape models.
Power Surfacing is a powerful reverse engineering tool that allows you to quickly recreate organic shapes from 3-D scanned data. Our patented "Shrink Wrap" technology allows you to accurately capture details in a scan without having to create a dense re-topologized mesh.
Here are a couple of YouTube videos to help you better understand Subdivision Surface (Sub-D) modeling. "Subdivision Surfaces: Overview" and "Subdivision Surfaces: Artifacts"
Getting Started Video
User Interface Video
Gas Can Build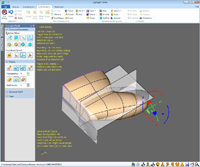 Using Image Planes
Reverse Engineering
Onshape Constraints